Seating Accommodation
The Institution has more than 120 lecture halls and 3 drawing halls with latest Training aids and audio-visual equipment. There are 5 seminar halls to accommodate more than 500 people. Each department has its own independent labs and seminar halls.
Library
The Library is sanatorium in temple of learning. It is the heart of Educational Institution. The same is true with our library also.
The SIT Central Library serves as a model of an evolving and dynamic facility in technical learning. The library, as an established knowledge hub that is conveniently accessible by those associated with the SIT, has a major contribution in making SIT an internationally top ranked Academic & Research driven Institution.
Library is a treasure of knowledge in our Institute. It's been upgraded periodically with more valuable additions. At present, the library contains 30,000 books along with regular arrivals of 100 journals of national and international publications. The whole library is computerized. The library along with reading room can accommodate 1000 students. The reading room is open 24 hours for the students. The library has a unique collection of Parliament's Report on Technological Advancements submitted by organizations like ISRO, ONGC, DRDO etc. This helps students with the latest development in job opportunities also.
Labs @ Campus
All our labs are equipped with latest and modern equipment from reputed hardware manufacturers to train the students. The entire labs are safeguarded against electrical and fire glitches/dangers.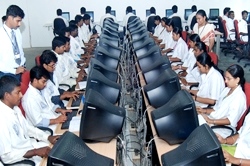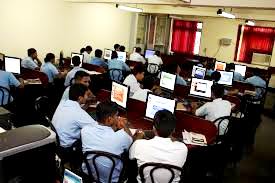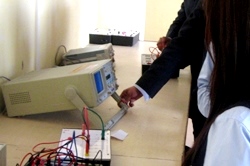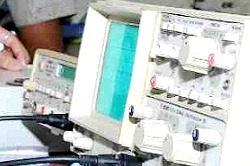 Electronics & Communication Lab
Electronics Lab
Digital electronics lab
Microwave Engineering Lab
P.C.B Lab
CAD Lab
Microprocessor Lab
Industrial Electronics Lab
Basic & Digital Comm. Lab
Signal Processing Lab
Antenna Lab
Networking Programme Lab
MCA/Comp Science & IT Engg
Object Oriented Programme Lab
Data Structure lab
Data Base Application Lab
TCP/IP Lab
Linux & shell Script Lab
PHP Lab
Web Technology Lab
Application Programme Lab
Internet Lab
Network Lab
.Net Lab
Electrical Engineering
Power Electronics lab
Electrical Machine Lab
Power System Design Lab
High Voltage Lab
Computer Based Electronic-Machine design Lab
Power Electronics & control
Mechanical Engineering
Fluid Mechanics Lab
Strength of Materials lab
Dynamic of Mech. Lab
Material Lab
Thermal Engineering Lab
Mechanical Workshop
Automobile Engineering
Material Science Lab
Dynamics of Mechanics Lab
Mechanics of solid Lab
Production Practice Lab
Machine Drawing Lab
Fluid Mechanics Lab
Thermal Engineering Lab
Physics & Chemistry
Physics lab
Dark Room
Chemistry Lab with all Modern Equipment.